Used Loynds 420 Bagging Machine
Used Loynds 420 Bagging Machine
(Old generation 2017), touch screen control, servo motor and pneumatic movements. Euro-slot punch. Block bottom attachment. The machine only run on trials in our showroom. We have new 10 multi-head weighers in stock that can feed this machine.
All complete and in full working order.
Max speed 70 bags per minute. Safety interlock switches for full operator safety.
Two-belt type with spine seal. The PLC program has a self-checking sequence to display any errors before the operation starts. Print registration unit. Euro-slot hole punch. Block-bottom attachment, Various forming shoulders available.
Inside the machine is in pristine condition.
Very limited use, it's only been used for in-house demonstrations.
Roll holder locks roll in place by compressed air.
The machine has a roll splicer built-in. Code printer for "best before" dates.
The film carriage is self-centring and can move left and right to keep alignment perfect.
Mitsubishi PLC, Panasonic controllers.
This machine is ready to go into service immediately and is available for immediate dispatch.
Ex Demonstration Machine.
This is a first class machine and is ready to run in any factory.
Weighers available.

A small vibrating table which fits onto different melting kettles...
View
Vibrating Table For Mould Filling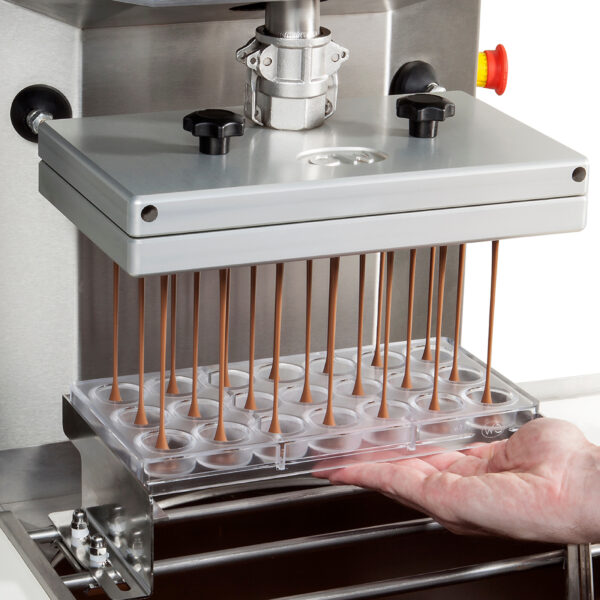 A depositing head add on which can be retro fitted to all the tempering machines in this range....
View
Depositing Head Module For Tempering Machines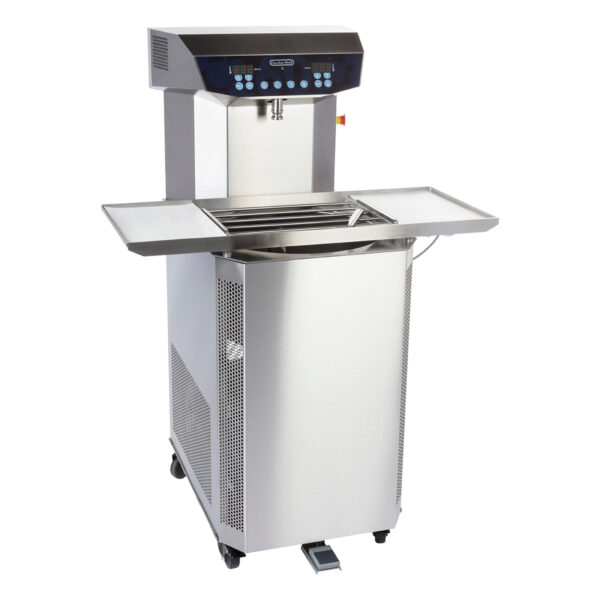 full stainless steel chocolate tempering machine with a tempering capacity of up to 200kg of tempered chocolate per hour....
View
200Kg Per Hour Chocolate Tempering Machine M1400