Used Candy Depositing Line
A Used Candy Cooking & Depositing, Wrapping line capable of producing up to 300kg per hour. Available for a great price!
A customer of ours has recently upgraded their candy depositing line by purchasing a new production line from us. We're now helping them find a buyer for their previous 300kg per hour candy cooking, depositing and wrapping line at a competitive price. The line was manufactured in 2010 and has been reliably operating since. This line would be ideal for a somebody looking to scale their candy manufacturing setup.
What's included?
1x Dissolving pan
1x Holding Tank
1x Microfilm type cooker. (Working but requires some overhaul).
1x Candy Depositing Line with Ambient Cooling.
1x Conveyor to Twist Wrapper distribution system.
3x Twist Wrapping Machines
2x Mini Wrap Pillow Wrapping Machines.
386x Teflon Coated Moulds
Why choose this line?
Cost-Effective: Get a complete production line at a fraction of the cost of a new one.
Ongoing Support: Need spare parts or new moulds? Loynds can provide all spares and new moulds for the line.
The line has been decommissioned but it is available for viewing at the customers site in Romania. This is an A-Z candy production line and would make a great investment for a candy manufacturer.
---
Dissolving Pan: Jacketed steam pan with stirring & Holding tank.
Microfilm type Cooker: Microfilm type Rotary Cooker to cook a hard candy mass, with pre-heat chamber complete with vacuum pump & discharge pump that transfers cooked candy to the depositing hopper.
The microfilm cooker requires some engineering work to the rotor assembly.
Depositor: The Line is a double width mould machine (40 deposits per cycle). It is complete with colour/flavour/acid mixing & dosing section. Stainless steel hopper with heated oil jacket. The machine can manufacture 1 or 2 colour candies and it can also manufacture centre filled candies.
Cooler: Ambient cooler from ambient overhead fans. Inside the cooler there is also a demould section and a De-moulded product take away conveyor, this takes the product out of the cooler.
Distribution conveyor: Conveyor that feeds the twist wrapping machines with product.
Twist Wrappers: These are double twist wrapping machine set for an oval shaped product, maximum running speed of approximately 450 wrapped candies per minute.
Mini Wrap Pillow Wrappers: Running speed approx. 800 wrapped candies per minute.
We do not expect this line to be available for long. The machinery is offered in as it stands condition.
If this line is of interest to you, contact us now.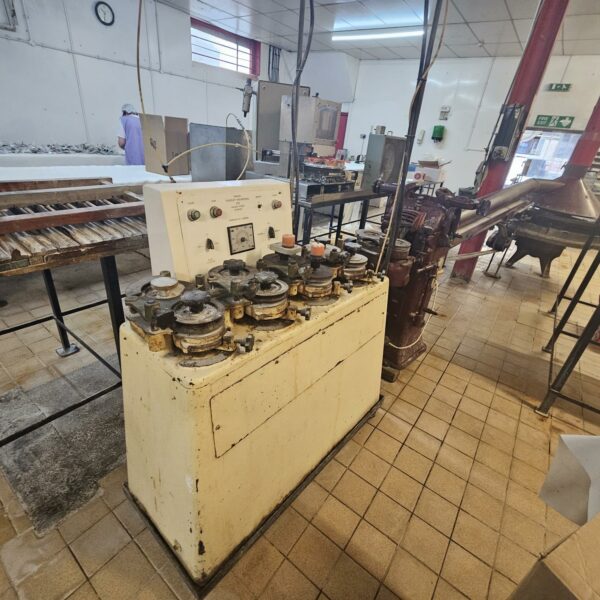 Used Rostaplast candy production line. Currently installed but no longer used. Available for immediate sale....
View
Used Rostaplast Sweet Making Line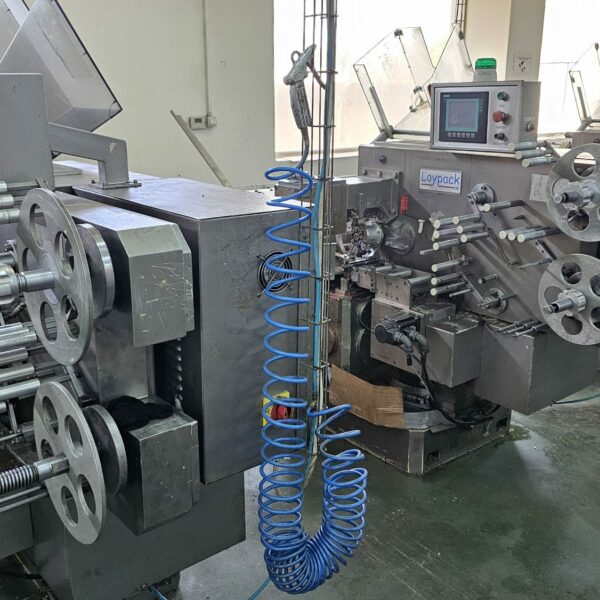 A Used Candy Cooking & Depositing, Wrapping line capable of producing up to 300kg per hour. Available for a great price!...
View
Used Candy Depositing Line

The FLM01 flat lollipop manufacturing machine is an efficient, customisable solution for industrial candy lollipop production, managing all stages from cutting the candy to wrapping, ensuring consistent qu...
View
Flat Lollipop Machine – FLM01