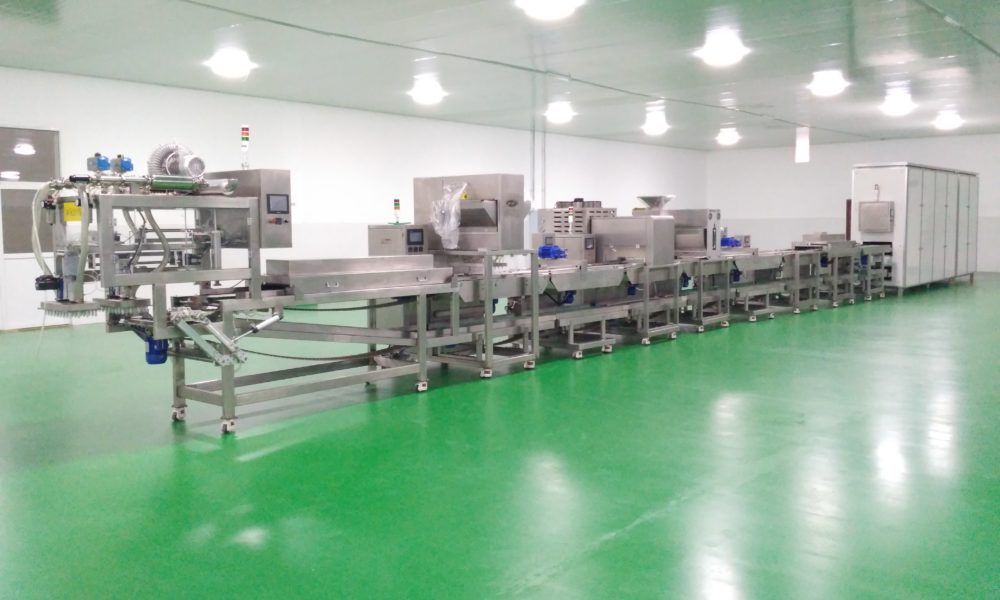 We partner with the leading Chocolate depositing equipment manufacturer in Asia. The equipment uses proprietary technology which is unique to this machinery, allowing you to have some of the most flexible and advanced chocolate production machinery available.
The equipment is modular, and there are currently 12 modules with over 50 variations. They are designed to be interchangeable allowing you to have a flexible manufacturing setup. Everything is on wheels and each module can be moved into and out of the production line as required.
The equipment is designed to be fully automatic including de-moulding of the finished chocolates and packaging. In order to minimize space requirements each module is designed with a section of return conveyor at the bottom and the main process flow at the top. The modules are interchangeable and collectively they will form a fully automatic depositing circuit.
A set up depositing 2 coloured decorated chocolates might consist of modules configured like:
Deposit ➡️ Vibrate ➡️ Cool ➡️ Decorate ➡️ Cool ➡️ De-mould ➡️ Deposit
There is a test facility available and customers can see a production line in operation. The facility is also used for training and product development.
All equipment can be connected to wifi for remote updating of the CNC programmes and troubleshooting,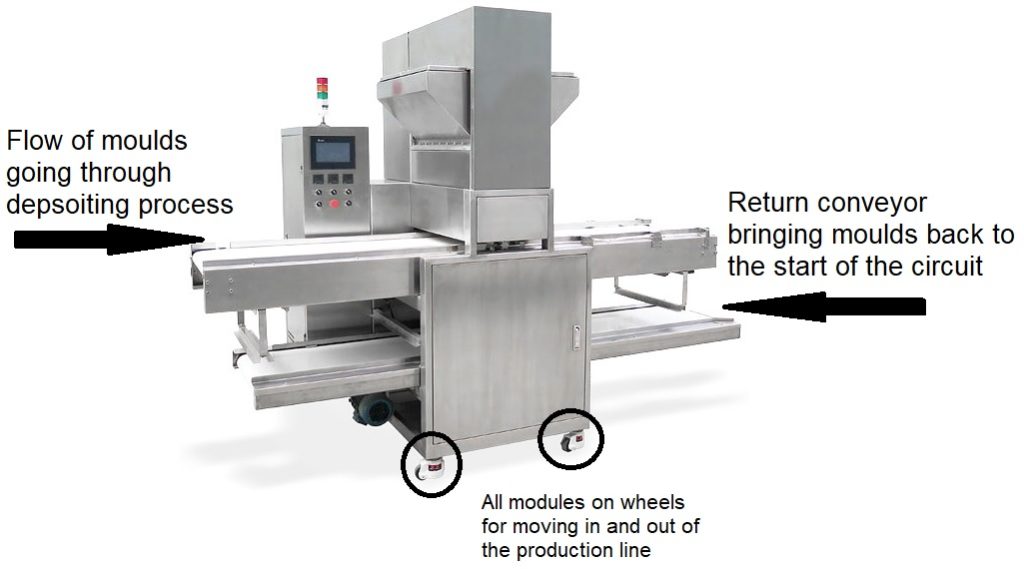 ---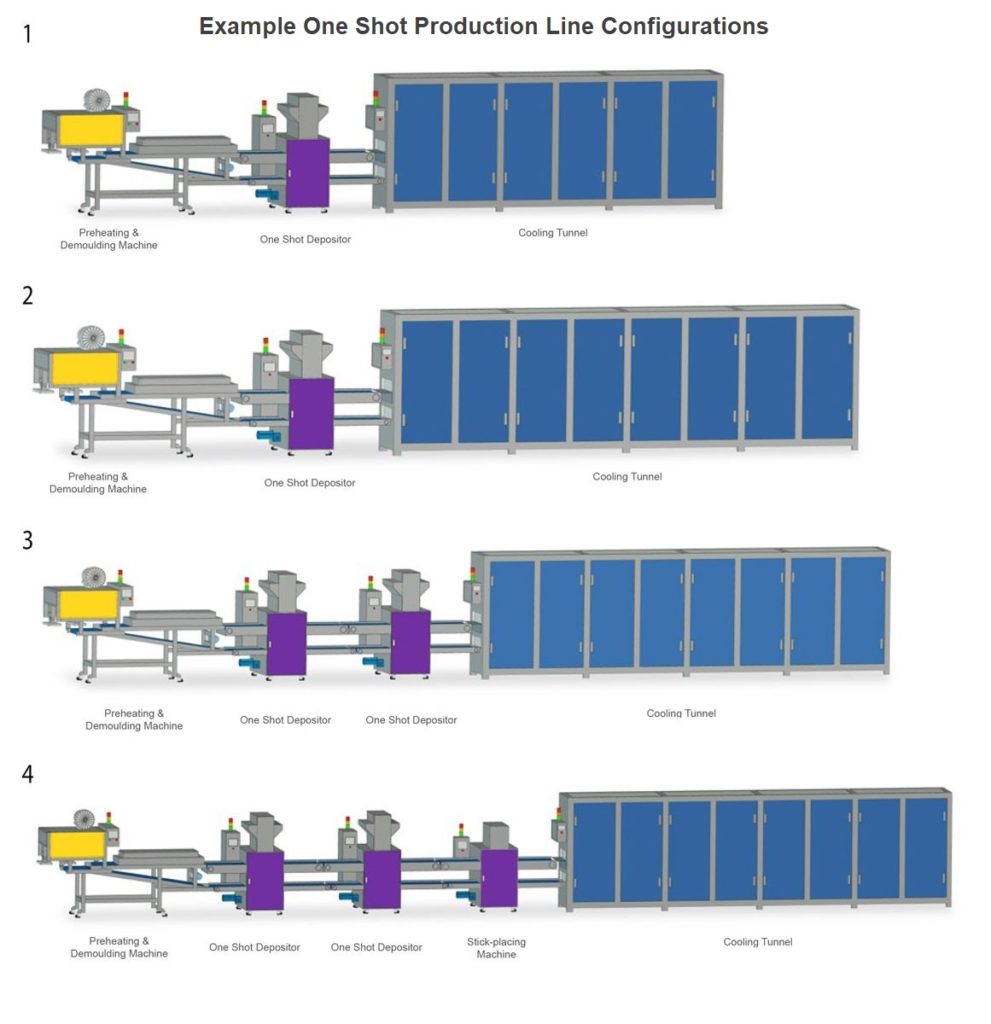 The following products can all be manufactured utilising modules from this equipment or any combination of. To create combinations we simply make use of more of the available modules in the range.
If you have an idea for a particular product then please contact us so we can help build you the right solution.
Too see the base range of chocolate depositing modules follow the link below. If what you are looking for is not shown please ask us as all modules can be customised to your needs.
👉 Chocolate Depositing Modules
To see some example chocolate depositing lines follow this link. These are just some examples of how modules can be arranged.
👉 Chocolate Depositing Production Line Examples 
Products made using CNC Depositing Technology
Biscuits and Chocolate
Utilising 5 axis robots biscuits can be placed into the chocolate moulds either before or after the chocolate has been deposited.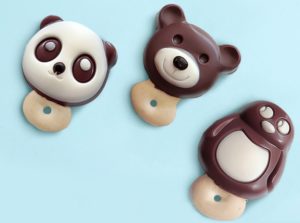 Automatic Boxed Chocolates
Utilising 5 axis packing robots, chocolates can be automatically placed into their final packaging boxes.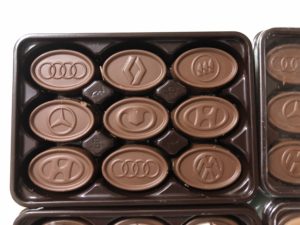 Chocolates with a Whole Nut
Using special feed systems an individual whole nut can be placed into each chocolate. The chocolate can be either solid, or centre filled with soft or liquid centres.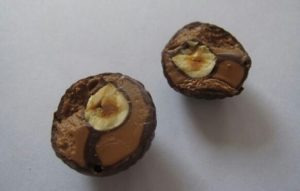 Shell Moulded Chocolates
The mould is first deposited with chocolate, the chocolate cooled slightly then using suction the excess is sucked back out of the mould leaving a shell behind. the shell can then be filled with various things including soft centres, liquid centres and or inclusions (whole nuts, fruit pieces, crushed nuts) Finally, the top of the chocolate can be decorated and or covered.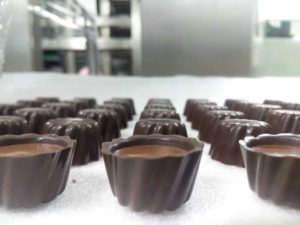 Decorated Chocolates
Using a 5 Axis CNC depositing head intricate multi coloured designs can be painted into chocolate moulds. Typically you would use multiple depositing stations for different colours so the final design can be built up in layers.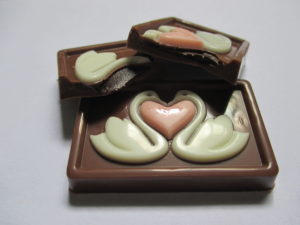 Chocolate Lollipops
A module for inserting lollipop sticks into the chocolate moulds is used for Chocolate lollipop manufacturing. Chocolate lollipops can be made in solid, centre filled or decorated in multiple colours. The lollipop sticks can be inserted either vertically or horizontally.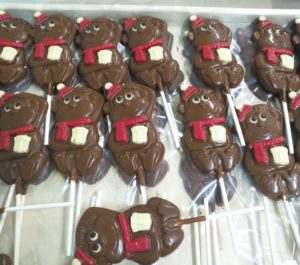 One Shot Depositing
Chocolates with cream or soft centres of up to 90% can be deposited using this technology.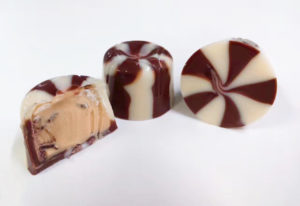 Chocolates With Inclusions (nuts, sprinkles, cereal etc)
By using a special depositor designed for depositing thicker chocolate mixes combined with granular products (crushed nuts, sprinkles, cereal etc)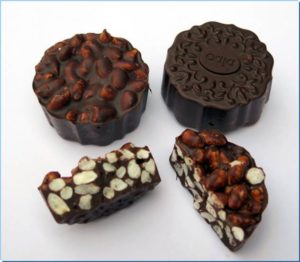 One Shot Moulded Jellies
Certain jelly products can be made using the one shot depositor with a different coloured centre.
 even more chocolates!