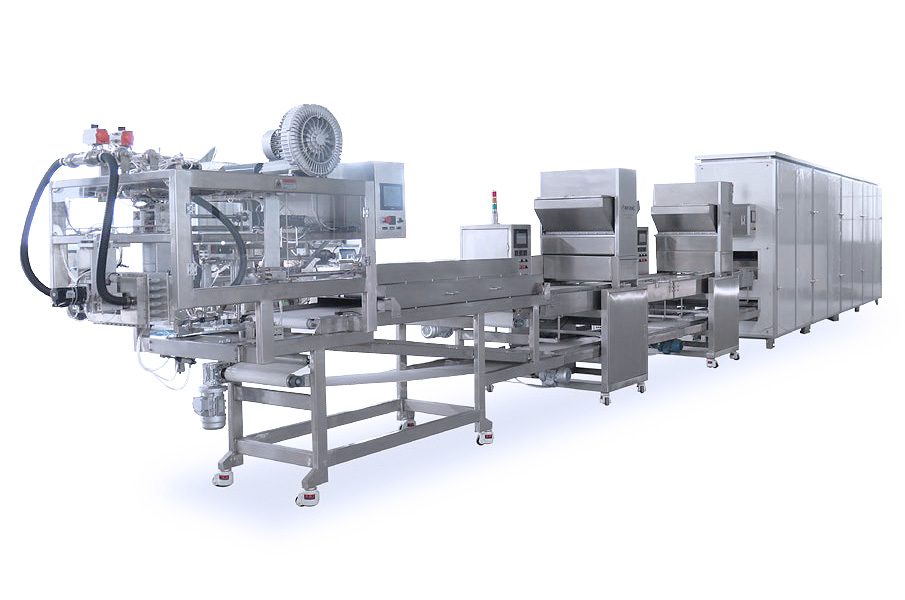 Fully Modular Production Line
The one shot moulding machine is made up of modules which can easily and quickly be wheeled in and out of the production line. This gives maximum flexibility to the manufacturer in terms of the variety of products  and total cost of investment. You may want to produce a chocolate with a cream centre today in which case the standard depositor is all you need. Next year you may decide you want to deposit nut centres. If so you just purchase the nut depositor and add it to the line. It really is that simple. The modules are all on wheels and a single operator can move the modules required in and out of position.
The options of having this type of modular set up are endless giving you an almost unlimited range of chocolate one shot decorated products.
Traditional moulding lines are typically configured in a circular circuit shape. This line has all the return conveyors for the circuit located underneath the modules meaning the line takes up half the space of a traditional line.
High Centre Percentages and Striped Chocolates
The one shot production line is capable of producing centres of up to 90% volume as well as striped chocolates and solids.

One Shot Moulding Line Types
We can supply 4 main types of one shot line which include:
Standard 500Kg/hr one shot line
Extended 1000Kg/hr one shot line
One shot line with nut depositing
One shot line for shell moulded products
The One Shot Moulding Process
A complete production line makes a circuit. A PLC and sensors are used to track all moulds in the circuit.
The process starts with an empty mould passing through a pre-heating module. This ensures the deposit flows freely into the mould cavity.

Next the mould passes through the depositing module. Here your solid or centre filled product is deposited into the mould cavity.

Next the mould is fed to the vibrating module. Vibration is applied to each mould removing air bubbles from the chocolate and ensuring the cavity is filled evenly.

The filled mould is now fed to the cooling tunnel where the chocolate is set to a solid.

The mould is automatically returned to the start of the circuit by means of a return conveyor located underneath the modules.

Demoulding is done at the start of the line. This is done either by vacuum or twisting depending on your product. The vacuum demoulder can also be used to automatically place the chocolates into a box.

The empty mould is now ready to be fed through the circuit again.