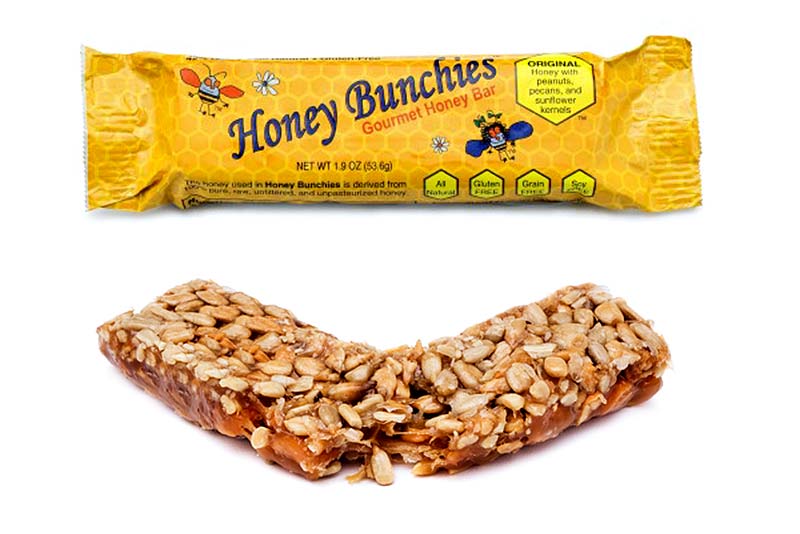 Honey Bunchie LLC of Longmont, Colorado, USA is a typically passionate, family-run, entrepreneurial business.
As with many family businesses it started with a great product. The Honey Bunchies are a Gourmet Honey Bar, with 42% of each bar containing pure Colorado honey infused with peanuts and pecans, then coated with sunflower kernels.
The Honey Bunchie business, family-owned and operated, is having great success supplying to a wide range of retail outlets and direct online retail.
However, success can also bring volume and production challenges. Honey Bunchie produce approximately 10,000 (429Kg) pieces per week.
With volumes increasing weekly, production bottle necks had to be addressed. Ed Payne, CEO, explained that it took cutting a slab of Honey Bunchie product 10 minutes in order for those bars to be ready for flow wrapping and final packaging. "We had to find a way to reduce labour time and costs and increase productivity. All of our concerns have been addressed with our new Loynds Cutter which can cut the same amount of bars in only 8 seconds which makes it truly the 8th wonder of the world for us."
The Loynds Cutter being capable of cutting Fudges, Caramels, Nougats, soft candy and similar products, all into cubes, oblongs and bars is the perfect solution.
The Loynds Honey Bunchie cutter in action
The Loynds cutter consists of a centre chain conveyor which transports a Nylon carrier through the machine. A slab of product is placed on this carrier and transported under a bank of rotating stainless steel blades which cut the product to various specified widths.  The carrier is then rotated automatically 90 degrees and transported under a second bank of rotating blades that cut the strips into bars.  Edward Payne, COO,said, "This cutter has saved us over 9 minutes per slab which means our investment in the cutter has a great pay back in a very short time period."
As the machine is made with the blades configured to cut the size of one product, further sizes can be cut by having extra banks of blades, which can be quickly changed over. This flexibility offers Honey Bunchie the opportunity to introduce other bar sizes in the future.
With both the chain transport system and the rotating blades controlled by electronic variable speed drive units, the differential between these two drives can be varied to allow work with all types of recipes, even if it means cutting through an even tougher product.
Both Ed & Edward are quick to highlight;
'With the robustness of the machine's design and with protective guarding, the machine stops automatically and has emergency stop buttons included for extra safety. This is an operator friendly machine not just to use, but for safety as well."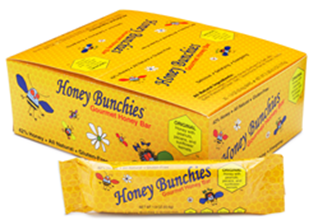 We wish Honey Bunchie every success in their future endeavors.
If your company would like to produce bars, cubes or oblongs of fudge, caramel, nougat, soft candy or any other similar product, take a look at our Cutting Machine and feel free to get in touch with us with any questions you might have; we're here to help.
Video
Featured Machinery